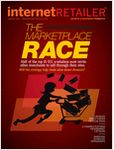 Internet Retailer is America's #1 source of information on e-business strategies for retailers and direct merchants. The magazine also covers exclusive reports on the competitive, marketing and operational trends in e-retailing. If you are a store-based retailer, a cataloger, a virtual merchant or an e-business provider, Internet Retailer provides the information you need to make the most of your use of the internet as a retail sales channel, multi-channel integrator or a tool for supply-chain automation.

Is the first magazine devoted to reporting on the Internet revolution in retailing and today remains the only magazine on the market with this exclusive focus.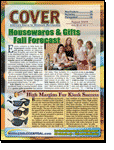 COVER Magazine delivers no-nonsense business news and feature stories, designed to improve the retailer's everyday business operations. Each monthly issue also provides hundreds of merchandise offerings from America's leading wholesalers, importers and manufacturers. Editorial coverage includes the latest industry news, trends, new products and marketing strategies that are invaluable to the independent retailer.
NICHE Magazine provides business tips for retailing to the affluent. Best practices and success stories are included for managing luxury boutiques, jewelry stores, art galleries, fine craft retailers with the finest designer decorative accessories, designer jewelry, art objects and studio furniture all made in the USA and Canada. More than 300 American designers' works are featured in each issue of this quarterly, full color publication.

Target Marketing covers all direct response media, including direct mail, telemarketing, space advertising, the Web and direct response TV. Readers get insight into such subjects as using databases and lists effectively, acquiring new customers, upselling and cross-selling existing customers, fulfillment strategies and more.




The Business Bookstore

FREE Trade and Business Publications

Authored by the engineers or scientists who did the work, the briefs span a wide array of fields, including electronics, physical sciences, materials, computer software, mechanics, machinery/automation, manufacturing/fabrication, mathematics/information sciences, and life sciences. NASA Tech Briefs also contains feature articles on successful NASA spinoffs, profiles of NASA tech transfer resources, news briefs, and application stories. Regular columns describe new patents, industry products, software, and literature.

Information made easy!

Whether you've worked in your field for ten months, ten years, or longer than you'd care to remember, chances are you rely on trade magazines to keep you up to speed with trends, opportunities, and new developments in your industry. And like most of us, you've probably found yourself hunting at some point for a case study, white paper, best practices guide, or other source of information to steer you toward the best possible decision about one of the many projects on your plate.

David J Ward can help. Through our partnership with TradePub, we are pleased to offer you FREE subscriptions to popular business magazines across more than 30 industry sectors, plus complimentary white papers, webinars, ebooks, podcasts, software, and more. We know your time is in short supply, so we've made it as easy as possible:

Browse by industry to find the titles of interest to you
Sign up for as many as you like! There's no limit - publications are entirely free to those who qualify. Simply complete a brief online form indicating your job title, industry, and other basic information.

That's it! No coupons, credit cards, or secret promo codes to slow you down. If you request a white paper, digital magazine subscription, webinar, or other downloadable item, it will be available immediately in most cases. Print magazines typically start to arrive in several weeks, depending on the individual publisher's circulation and publication cycle.

If you are in the midst of a job hunt (or starting to think about one), beginning to evaluate vendors for a software implementation, or just taking a hard-earned break from the madness in your cubicle or corner office, the business publications and technical documents on TradePub.com offer the valuable information you need.

Get the scoop on upcoming conferences and events; impress your boss with a side-by-side comparison of the leading solution providers for your issue of the day; catch a live or on-demand webinar on your lunch break. The resources on TradePub.com make it easy to do all this and much, much more - all absolutely free.

Visit http://magazinedesk.tradepub.com to find the offers of interest to you. More than 400 free titles are waiting. Sign up today!
Catalog Success is the only industry magazine that provides practical information and ideas catalogers can use to do their jobs more profitably. It provides readers with solid, how-to information, case studies and advice from leading experts on catalog creative, production/printing, e-commerce, fulfillment, merchandising, marketing, lists and media, and customer relationship management.

Is the only industry magazine that provides practical information and ideas catalogers can use to do their jobs more profitably.

The Retail Directory contains contact details of over 20,000 named personnel from 12,000 companies across the UK and Europe. Details include multiple named contacts, full contact details (including web and email addresses), turnover figures, number of staff and much more. The Retail Directory allows you to build a complete picture of the industry. As the most authoritative source of information on the retail industry, The Retail Directory provides you with direct access to the sector's key decision makers.

Oracle Magazine contains technology strategy articles, sample code, tips, Oracle and partner news, how to articles for developers and DBAs, and more. Oracle (NASDAQ: ORCL) is the world's largest enterprise software company.

Oracle is a registered trademark of Oracle Corporation and/or its affiliates. Other names may be trademarks of their respective owners.


RESTAURANT BUSINESS is the only publication that is all about and only about the restaurant entrepreneur--serving regional and emerging chains, multi-concept operators and high-volume independents with ideas to innovate and grow.

Features include growth strategies, innovations, the restaurant life, 20-minute University--powered by Culinary Institute of America and much more. Published 12 times a year.

Until now, there has not been a magazine that caters exclusively to the business of running a website. Website Magazine has tapped premier talent in the Internet industry for our content and each and every issue will contain practical advice and insights for website owners.

Published monthly, CustomRetailer is designed for custom electronics retailers, integrators, installers, and service professionals that want to maximize their success in the custom electronics field. CustomRetailer is the only magazine that provides valuable strategies, intelligence and viewpoints of the 21st century retailer, installer and integrator who wishes to conduct a successful c-business. Subscriptions are available free to individuals who meet pre-established demographic criteria.

Recycling Today is published monthly and is edited for the secondary commodity processing/recycling market. News is targeted to dealers, processors, material recovery facilities, and consultants and engineers designing recycling systems, and brokers in addition to scrap generators and consumers.

Provides the most comprehensive market coverage for scrap commodity markets, legislative and regulatory issues, as well as business and technical information necessary for effective management in complex markets.

Has been the leading business publication for on-premise operators for 23 years and counting.

Nightclub&Bar Magazine is the premier source of ideas, strategies, news and coverage for the on-premise alcohol beverage industry, including bars, clubs and restaurants. Owners and operators of independent and chain establishments, as well as suppliers, look to NCB for the most current information on trends, operations and product news covering everything from cocktails to technology to food and beyond.